Alismatanae
William J. Hahn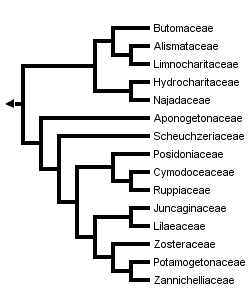 This tree diagram shows the relationships between several groups of organisms.
The root of the current tree connects the organisms featured in this tree to their containing group and the rest of the Tree of Life. The basal branching point in the tree represents the ancestor of the other groups in the tree. This ancestor diversified over time into several descendent subgroups, which are represented as internal nodes and terminal taxa to the right.
You can click on the root to travel down the Tree of Life all the way to the root of all Life, and you can click on the names of descendent subgroups to travel up the Tree of Life all the way to individual species.
For more information on ToL tree formatting, please see Interpreting the Tree or Classification. To learn more about phylogenetic trees, please visit our Phylogenetic Biology pages.
close box
Introduction
The pondweeds and relatives are almost exclusively aquatic or marine and show numerous specializations for this habitat. Many of these features are reductions in form which have confounded attempts at phylogenetic resolution for the group (Dahlgren and Rasmussen, 1983; Les and Haynes, 1995). The superorder includes 15 families, 56 genera, and approximately 500 species.
Characteristics
Morphological synapomorphies for the alismatids include presence of intravaginal squamulae, lack of an endosperm, and root hair cells shorter than epidermal cells. (Dahlgren and Rasmussen, 1983; Dahlgren et al, 1985; Dalgren and Bremer, 1985).
Discussion of Phylogenetic Relationships
This reconstruction is taken from Les and Haynes (1995) and is based on rbcL data.
References
Dahlgren, RMT & K Bremer. 1985. Major clades of the angiosperms. Cladistics 1: 349-368.
Dahlgren, RMT, HT Clifford, & PF Yeo. 1985. The Families of the Monocotyledons. 520 pp. Springer-Verlag, Berlin.
Dahlgren, RMT, & F Rassmussen. 1983. Monocotyledon evolution. Characters and phylolgenetic estimation. Evol. Biol. 16: 255-395.
Les, DH & RR Haynes. 1995. Systematics of subclass Alismatidae: A synthesis of approaches. pp 353-377 in PJ Rudall, PJ Cribb, DF Cutler, & CJ Humphries (eds). Monocotyledons: systematics and evolution. Royal Botanic Garden, Kew.
About This Page

Georgetown University, Washington, D. C., USA

Correspondence regarding this page should be directed to William J. Hahn at

Page copyright © 1997

Page: Tree of Life Alismatanae. Authored by William J. Hahn. The TEXT of this page is licensed under the Creative Commons Attribution-NonCommercial License - Version 3.0. Note that images and other media featured on this page are each governed by their own license, and they may or may not be available for reuse. Click on an image or a media link to access the media data window, which provides the relevant licensing information. For the general terms and conditions of ToL material reuse and redistribution, please see the Tree of Life Copyright Policies.
Citing this page:
Hahn, William J. 1997. Alismatanae. Version 01 January 1997 (under construction). http://tolweb.org/Alismatanae/21329/1997.01.01 in The Tree of Life Web Project, http://tolweb.org/
edit this page